Solutions for the Most Demanding Applications
Ovation Polymers (OPTEM) formulates, develops, and produces some of the most advanced specialty and performance polymer compounds available. Our portfolio consists of a variety of proprietary compounded products and formulations that deliver the critical benefits needed for some of the most intensive, demanding, yet essential applications and industries worldwide:
Materials for electrostatic discharge (ESD) protection
Electrically conductive- and ESD-safe materials
Thermal management solutions with thermally conductive plastics (TCP)
Fire and flammability solutions with flame-retardant materials
High-temperature and plating-grade materials
Specialty thermoplastic elastomers (TPEs) that bond to numerous substrates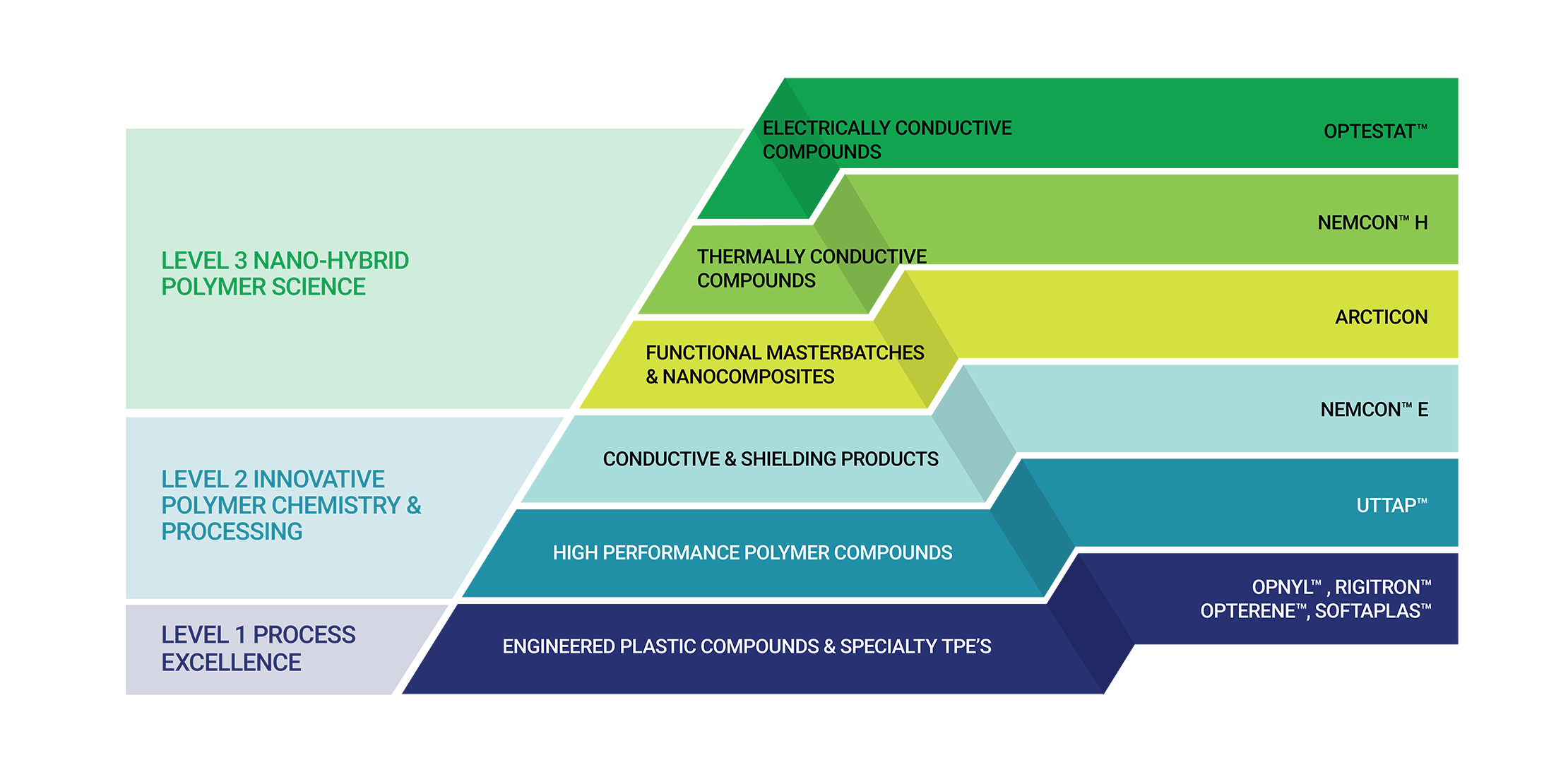 Our Proven Processes Ensure Quality Products and Experiences
Whatever your application may be, our experienced manufacturing team will work diligently to meet your requirements in product quality, on-time delivery, production yields, and inventory accuracy of toll-compounded products and our own brand products. Above all, our products are developed under rigorous safety procedures — ensuring that our team (and yours, should you decide to visit us for a tour) are protected from harsh chemicals and heavy equipment. Learn more about our safety program and how it has led to 3,500 days with no lost-time accidents as of July 2021.
While delivering exceptional polymers to our clients is standard procedure, we go above and beyond to maintain this quality is all that we do. To ensure the specialty and performance plastics you receive are of the utmost quality and were produced using efficient techniques, OPTEM maintains ongoing ISO 9001:2015 certification and undergoes consistent third-party auditing to validate our efforts and output. To date, our on-time delivery rate — a critical ISO metric — stands at 99%. Learn more about our quality certifications and auditing processes.
Explore our specialty and performance polymers below. Remember, we offer toll compounding and custom compounding services in addition to providing these proven OPTEM-brand solutions. Get in touch to learn more about our specialty polymers and performance polymers.
Get Expert Assistance for Your Polymer Development Goals
Whether you're looking for a heat-sink solution or an electrically conductive polymer, Ovation Polymers has the solution you need — or we'll custom-formulate it for you.