Prioritizing Safety Leads to Success
At Ovation Polymers (OPTEM), safety underscores all that we do. Only by upholding a relentless commitment to ensuring the safety of our employees, clients, partners, vendors, and all who visit our facilities are we able to achieve success in specialty and performance polymer compounding and development. It's this commitment that has led to OPTEM operating for nearly a decade — 3,500 days to be precise — with no lost-time accidents.
Every day, our employees working throughout our production facilities are able to see the results of this focus on safety as our accident-free display adds another day to the thousands already spent without injury or downtime. We're proud of what they've achieved, and we look forward to continuing this success for years to come.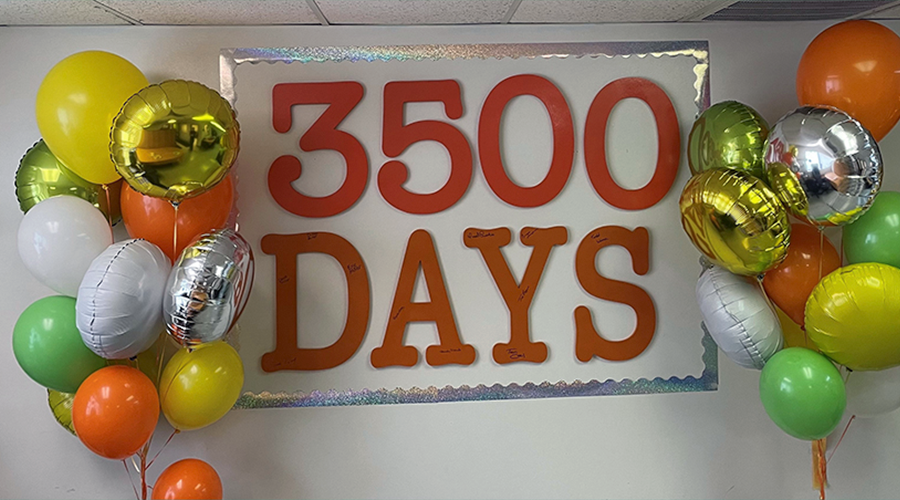 How We Make Safety a Focus
Every single OPTEM employee receives upfront and ongoing safety training, ensuring that they understand our safety commitment and how they can do their part to protect themselves, one another, and our clients and partners that visit our sites.
Employees also wear personal protective equipment (PPE) as needed throughout the production floor. First aid kits, eye and hand washing stations, hazardous materials information, and more are all readily available throughout the production floor as well.
Our facilities themselves are also set up to keep safety front and center. Floors and equipment feature safety markings to prevent falls or misuse. As we frequently conduct tours of our facility to demonstrate our capabilities, we have also ensured that tour areas are properly designated.
In addition to providing training and resources, OPTEM also partners with an independent third-party auditor that conducts walk-throughs of our facilities to validate our safety processes and protocols and ensure they're up-to-date. If you have any questions about our safety practices, or would like to learn more about our organization and how we make safety a focus at all times, please don't hesitate to reach out to us.